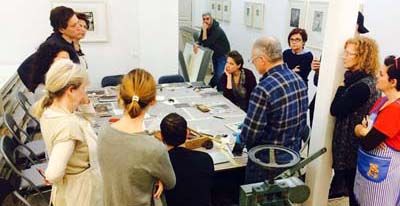 PRESENTATION OF THE WORKSHOP
Intaglio engraving (or engraving on metal plates) involves different techniques, of which drypoint and etching are two of the most basic and important.
In this workshop, held in conjunction with the Museo Picasso Málaga, students will be able to experiment with both techniques, learning to use different tools and to deploy all their creativity through the technique of engraving.
The workshop is divided into two days, each of 4 hours of work (from 11.00 to 15.oo hrs. each day), where the following topics will be developed:
. Drypoint. Tools and their characteristics
. Etching. Hard varnish .
. Acids . Non-toxic composition
. Printing. Inking techniques . Dye knife. Roller.
To carry out the work, the student will have 2 metal plates (1 of copper and 1 of zinc) of 12.5 x 16.5 cm format and 1 mm thick).