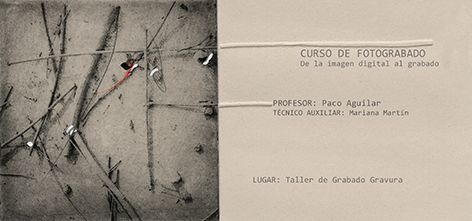 This course is designed for understanding the technical intricacies of transferring a digital image to a physical surface so that it can be inked and printed. We will learn how to create different types of film positives (digital, manual and analogues), the procedure for their exposure onto the photopolymer film and the process to get the finished matrix for the final printing. Participants will get 2 matrices to produce their work: two copper plates measuring 16.5×12.5 cm and 25×16.5 cm.
COURSE CONTENT
1. PRESENTATION
. Introduction to the workshop. Approach and structure.
. Photopolymers. Characteristics and properties.
. Equipment, materials and tools.
2. PROCESSES
. Making digital positives.
. Image processing. Printing.
. Preparing the matrices.
. Lamination.
. Image transfer process. Exposing, developing and adhering.
. Printmaking techniques.
. Analogue positives. Materials and. printing surfaces.
. A brief introduction to the combination of traditional techniques and photogravure.
3. IDEA SHARING AND DOCUMENTATION