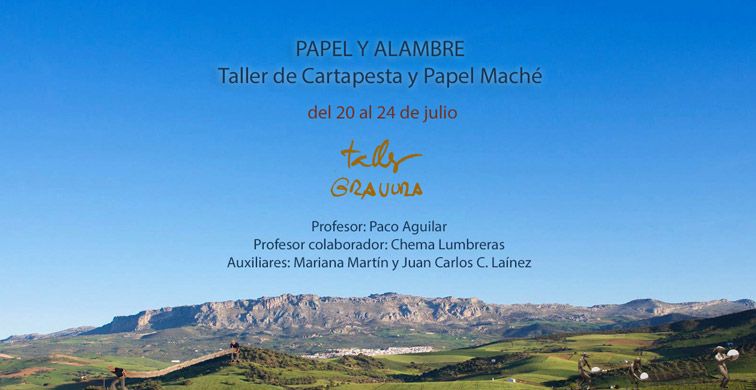 WORKSHOP OVERVIEW/p>
Cartapesta is the technique in which strips or pieces of paper are intertwined in several layers, with the use of an adhesive, to obtain a hard and strong material once it has dried. Papier-mâché, on the other hand, means mashed paper, this paper paste or pulp is also combined with an adhesive to make a hard material. The two techniques are closely related and, therefore, often used together in the creation of a piece, or one is used as a base for the other.
Con ambas técnicas se pueden realizar una gran diversidad de trabajos gracias a la plasticidad del papel y la multitud de acabados que permite. Nosotros nos vamos a centrar en pequeñas esculturas realizadas con estructura de alambre, encapado posterior, modelado con la pasta de papel y pintado de la pieza. Las obras a construir serán orientadas desde el trabajo personal de cada participante.
This workshop is further enriched by the special collaboration of artist CHEMA LUMBRERAS.He will share his experience by guiding us, during the first day of the workshop, on the development of creative work. This first day will be a full-day workshop (about 8 hours, divided into morning and evening sessions) and will offer open registration for people who are not enrolled in the full course.
COURSE CONTENT
PRESENTATION
. Introduction to the course. Approach and structure.
. Materials and tools.
PROCESSES
. Design of the figure to be created. Ideas.
. Assembling the structure.
. Base wrapping of the framework.
. Preparing paper pulp.
. Application of paper pulp.
. Modelling of the piece.
. Drying process.
. Finishing touches.
. Painting the piece.
    3.  IDEA SHARING AND DOCUMENTATION
WORKSHOP SESSION: CHEMA LUMBRERAS (20 July): €60 for participants not enrolled in the full course. Maximum 12 participants
Welcome dinner on Sunday, 19 July at the cottage.