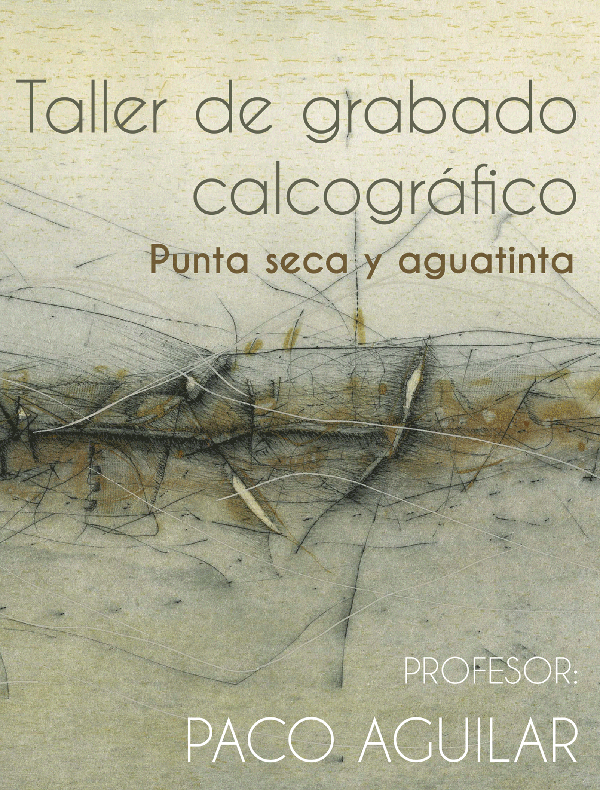 INTRODUCTION TO THE WORKSHOP
The workshop is aimed both at people who are new to printmaking and those who have already made some incursion into this discipline. We will open the course with a study of the graphic possibilities of the line in drypoint and we will deal with the meeting points that this direct and primordial technique has with drawing. Aquatint will be used as an additional process to create backgrounds or tonal planes, in the same matrix or in a complementary matrix.
We intend to focus the development of the course from the dynamics of a printmaking workshop so that it will be an example for future initiatives of the participants, in this sense, they will participate in the whole process necessary for the elaboration of the work in an autonomous way.
The participants will have 4 plates of 12.5 x 16.5 cm format (1 copper, 2 zinc and 1 methacrylate).
CONTENTS
PRESENTATION
. Introduction to the development of the workshop. Method of work .
. Materials and tools.
PROCESOS
. The plate. Polishing and bevelling
. Matching points between the drawing and the drypoint .
. Characteristics of the drypoint line
. Reference method of visualisation .
. Tonal gradation of the drypoint to deep black .
. Correction and removal of areas to suit
. Application of the burin to define shapes. Retouching
. Aquatint . The resin
. Creation of second planes
. Acids . Composition .
. Tonal gradation . Time scale .
. Inking .
. Cleaning processes .
. Printing. Stamping with two dies. Registration .
. The paper. The types. The grammage
. Drying, cleaning and conservation of the finished print.
. Signature and numbering
SHARING, DOCUMENTATION