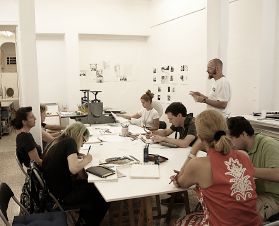 Since we started this programme six years ago, we have implemented a different approach to drawing through micro-workshops, with a great diversity of themes to facilitate more comprehensive learning of drawing as compared to the classic succession of exercises.
Objectives: To develop a broad knowledge of drawing, to learn to see, think of drawing as part of a process and a tool of knowledge, to foster a critical attitude, with the ultimate goal of opening numerous avenues of exploration for the students who, as a result, will be equipped with more tools in the evolution of their personal artistic expression through drawing.
The experience is further enhanced in a great working environment that is conducive to the exchange of ideas, focused on extensive learning and surrounded with art, i.e. the Gravura print studio and gallery.