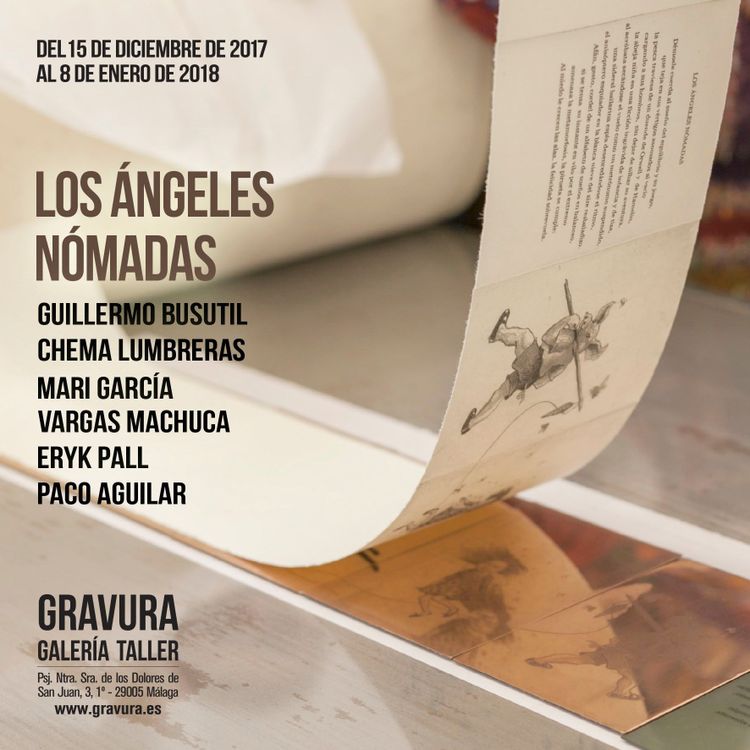 Mari García and the writer Guillermo Busutil
15.12.2017 / 08.01.2018
Gravura Workshop Gallery
Let's wind up the dream of balance and its game,
that it weaves in its vertigoes leaning out into the void
the mischievous fishing of an Orwellian and Hamelinian elf,
carrying on his shoulders, without ceasing to whistle his adventure,
the child bee in a weightless fiction of childhood and chalk,
the acrobat drying his flight as a suspended metronome,
a sidereal spy dancer untangling the rhythm,
the anisopter skier in the white snow of the slippery air.
Eagerness, gesture, string of an alphabet of swaying dreams,
if its instant is stretched taut on the edge, threatening metamorphosis
metamorphosis threatens, the pirouette is fulfilled:
Fear grows wings, happiness flies over.
( Text by Guillermo Busutil for the folder «Los ángeles nómadas» )
The exhibition will present the first collectable portfolio of prints «Los ángeles nómadas» published by Taller Gravura. It consists of five prints by the artists; Chema Lumbreras, Vargas Machuca, Mari García, Eryk Pall and Paco Aguilar, with the literary collaboration of Guillermo Busutil.
Hahnemühle paper of 300 gr, in a format of 14.5 x 63 cm, has been used for the engravings, which are printed using the following techniques: etching, aquatint, soft varnish, drypoint and photoengraving on solar plate. The edition is presented in a light grey corrugated cardboard box.
The edition consists of seventy copies numbered from 1/70 to 70/70, seven author's proofs numbered from I/VII to VII/VII and two workshop proofs. The printing was carried out by the master engraver Paco Aguilar and took place during 2017 on the Gravura presses.
Mariana Martín and Inmaculada Carrasco have collaborated unconditionally to bring it to fruition.
Production process of the «Nomadic Angels» print portfolio.