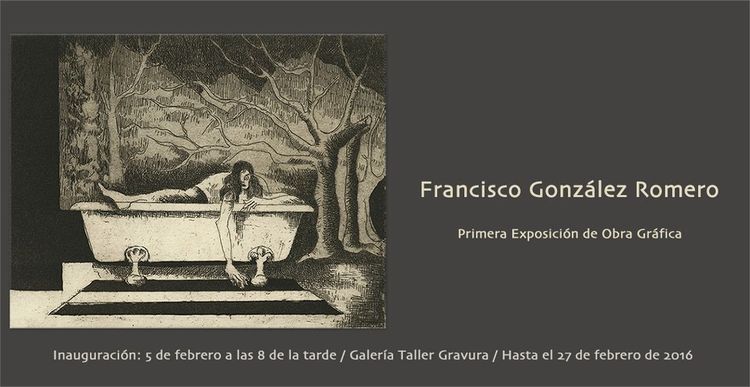 Francisco Gonzalez Romero
05.02.2016 / 26.02.2016
Galería Taller Gravura
Francisco González Romero, or the passion to create
Rafael Valentín López Flores – Doctor of Art History
Passion, exuberance, vitality, enthusiasm… these are some of the countless attributes that we can associate with the most prominent works of Francisco González Romero. Multifarious, diverse and always worthy of admiration, his creations are truly magnificent in each form, even more so when the experience acquired, through the years of experiments and disappointments, has never given way to boredom or detachment. They reflect a wide range of virtues, sometimes relatively obscure, from which we have picked, on the occasion of a new public display of his works, perseverance and curiosity.
Years ago, González Romero, the creator of an extensive and versatile collection of pieces, could have chosen to be contented with his fine art expressions, refining and remodelling them from the comfort of his bright studio in the heart of Málaga city centre, but he did not. Paco–as those of us who have the privilege of being his friends call him–creates like a "young" painter even in his 92nd year and he does so by constructing a creative universe that is marked by symbols and geometry; a pictorial world that has been in existence for over seven decades and that, far from turning mouldy or stagnant, breathes vitality and novelty through each of its pores. A world between two millennia that our painter, armed with very high doses of knowledge, inexhaustible reserves of energy and large storage of curiosity, encounters fearlessly, hand in hand with the tireless study of new aesthetic, philosophical and pictorial perspectives, deepening his knowledge of contemporary art and the avant-garde to adapt his view to the culture that surrounds him.
Today, after a lifetime dedicated to artistic creation, cultural promotion and education, Paco offers us the opportunity to delve into a new dimension of his multifaceted personality; once again he has amazed us by showing us his prolific creative universe through the use of new media and new techniques. González Romero has embarked on his new journey as an engraver, moving to the plate, equipped with burin and scraper, his latest aesthetic investigations into the process that he calls "Evolution in art", and the result will, undoubtedly, leave its mark on the viewer.
Backed by the rigour and calibre of every good artist who has received formal training in the discipline, and well versed in the solid standards of architecture and interior design, Paco González Romero, during his extensive career, has provided us with various readings of the same creative passion embodied in the most diverse themes that are truly remarkable with their assertiveness, unique landscapes, still lifes, figures and interpretations of the sacred elements.
Today, with new techniques and new media, we contemplate the results of his painstaking research. With regard to the vision of the works, at first glance, it is worth noting that we are not looking at a painter of "sacred" works, not in the least. His vision, entirely aniconic, can be identified with complex linear schemes, colourful uniform planes enriched by superimpositions and subtle glazes, schematic figuration, colour schemes that range from a sharp contrast to a musicalised poetic rhyme, from deep black to the subtle pastels, a precise drawing or a characteristic style, a mark of style in the form of signature, symbol, or "written" presence of the creative spirit, which González Romero has repeated in his series: three vertical stripes that constitute an emblem of the painter's intimate artistic "trinity".
Despite the apparent apathy, based on geometric elements, planes and symbols, his interpretations are not lacking in spirituality and, perhaps, even indicate a certain "devotion". However, in this case, the spirituality and devotion arise primarily from the internalisation of philosophical teachings, abstract concepts and aesthetic extremities of the art forms. They are expressed through symbols, complex geometries–in which, according to some, the perfection of divinity itself resides–and spaces that, despite their physical flatness, lead to a remarkable, almost infinite, spatial configuration which serves as the most appropriate background for unfathomable mysteries that González Romero produces with his brushes through truly symbolic diagrams whose universal inspiration underlies the immutable power of geometries.